CT-800 Full Spectrum LED Grow Light
Introducing our full spectrum CT-800 grow light for indoor plants, expertly engineered to optimize your plant growth from seed to harvest.
High yield and low cost with 2.8μmol/J PPE, 2240μmol/s PPF
High-quality reverse folding design structure to emits light uniformly
800W consumption Full spectrum LED
Far red LEDs
Worry-free after-sale service
Coverage Area | 6' x 6' for Veg | 5' x 5' for Flower. Designed for Personal and Vertical Farming
CT-1000 Tunable Spectrum LED Grow Light
Experience the CT-1000 1000 watts LED grow light, tailor-made for personal grow success. Its dynamic 6'x6' Veg and 5'x5' Flower coverage ensures maximum yield.
Featuring a full-spectrum 1000W power, impressive 2.8 umol/j efficacy, and Samsung white LEDs with 660nm deep red diodes for optimal growth.
The game-changing feature of this light is the 3 independent channels, allowing precise control of lighting in distinct growth stages.
Transform your growing journey with one of the best LED grow lights for indoor plants, CT-1000!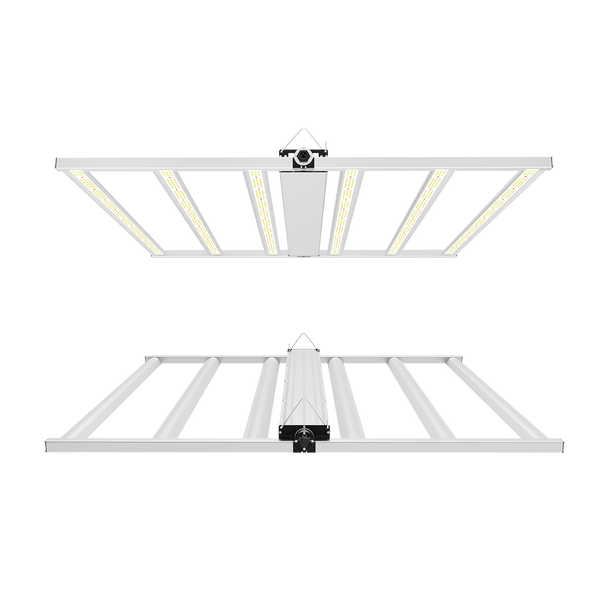 CT-480 Full Spectrum LED Grow Light
Achieve high yields and cost-effectiveness with the CT-480's 480W actual power, 2.75 μmol/J PPE, and up to 1320 μmol/s PPF, resulting in 30% higher Average PPFD, increased yield (2.5-3.0 lbs per light), and superior quality compared to similar lights, perfect for 4x4 feet (personal) or 3x3 feet (commercial) growing spaces.

The CT-480's lightweight structure features an all-in-one design, a 180° reverse folding mechanism for easy unfolding, a stable reverse hook suspension, all-aluminum housing for effective temperature reduction without fans, and no removable parts, reducing potential failure points compared to other grow lights.

CT-100 LED Grow Light for Seedling
Let's talk CT-100 LED grow light, a small plant light for your indoor garden! It is one of the best seedling stage LED grow lights .
Rocking a sweet coverage of 2.5' x 2.5' for veg and 2' x 2' for blooms, this 100W wonder boasts 1050 µmol/m²/s PPFD. Its patented design saves energy and lasts a lifetime.
With knob dimming and daisy chain controls, it's a scientific planting dream.
Get ready to level up with the CT-100!
Welcome to Cultiuana. You're In Good Horticultural Company
Here at Cultiuana, one of the top-rated grow lights companies. We strive to give you just what you need to get your indoor gardening going. We're a trusted horticulture company that has indoor grow lights covers. Whether you're a home or hobby grower or you're a commercial grower or a fixture distributor, we've got the best led grow lights for indoor plants that you need. We're the best full spectrum led grow lights company you've been looking for!
We focus on providing the highest level of PAR uniformity to ensure that all your plants receive the optimal light they need to grow and flourish.
Our LED grow lights are designed to deliver the most efficient conversion of energy into usable light for your plants.
We understand that you want to spend more time growing your plants and less time setting up equipment. That's why our LED grow lights and controllers are designed for quick and easy installation, getting you up and running in no time.
We stand behind the quality of our products and are proud to offer a 5-year after-sale warranty. Rest assured that we will be there to support you and your plants every step of the way.
We know that you want your new fixture ASAP, so we ship all online orders with DHL/Fedex/UPS for a quick and reliable service that arrives on time.
We provide free shipping for all orders within the continental United States. Each product has a specified delivery time displayed in the shopping cart. If the products are available in our warehouses in California or Europe, we will process the order within 48 hours. Alternatively, you can refer to the shipping date indicated on the product page.
We also strive to make your experience as special as possible, so whatever attention and service you need, we're here to provide. Cultiuana—the trusted brand for countless happy customers over the last 5 years.
At our company, we view business differently. We believe that business isn't just about making money, but fundamentally about sharing. We strive to share our high-quality grow lights and services with those who need them, always seeking to create lasting relationships along the way.
Every transaction we undertake isn't just a business deal; it's an opportunity to make a new friend. This approach is at the heart of our understanding of true business.
Our commitment extends to the way we handle our operations and manufacture our products. We insist on transparency, honesty, and sincerity in all our dealings. We firmly believe in not deceiving or hiding anything from our customers and partners.
For us, this isn't just good business practice; it's the right and ethical way to conduct business. It's a principle we stand by and a promise we make to all who interact with our company.
Responsive Customer Support
Fast and Reliable Shipping
Customer Satisfaction Guarantee